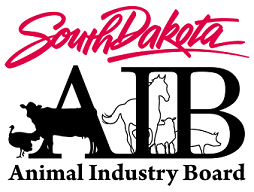 COVID-19
COVID-19 INFORMATION FOR ANIMAL OWNERS, LIVESTOCK PRODUCERS, AND VETERINARIANS

To keep the livestock industries, veterinarians, and service providers as up to date as possible with relevant information during the COVID-19 pandemic, the SDAIB will maintain the most recent information and guidance available on this page. Visit frequently as information will be updated.

State of South Dakota

Federal Resources
SDAIB

The Animal Industry Board office is currently closed until 5/31/2020 in accordance with Governor Noem's executive order 2020-12.

Veterinarians and staff are working remotely to provide the livestock industry with the services necessary for maintaining essential activities.

Certain routine activities are suspended in order to limit staff travel. Essential work will continue, including investigations for Foreign Animal Diseases, livestock neglect complaints, carcass disposal complaints, technical assistance and outreach, ensuring that interstate movements of livestock meet requirements, maintain inspection at livestock auction markets, and meat inspection services.

For livestock import requirements please check this link: https://aib.sd.gov/imports.html

If you wish to speak to one of the AIB veterinarians, please contact them directly at the following numbers:

Dr. Dustin Oedekoven, SD State Veterinarian 605-280-6448

Dr. Mendel Miller, SD Assistant State Veterinarian 605-280-8190

Dr. Susan Reenders, SDAIB Staff Veterinarian 605-295-1066

Dr. Todd Tedrow, SDAIB Staff Veterinarian 605-222-1034

LIVESTOCK PRODUCERS & INDUSTRY
Veterinary Medicine

Telemedicine in Veterinary Medicine

As veterinarians strive to continue to provide essential services in the midst of the coronavirus pandemic, the FDA has announced intentions temporarily suspend enforcement of certain provisions to allow veterinarians to better utilize telemedicine.

The South Dakota Veterinary Medical Examining Board recognizes telemedicine as a valuable tool in the context of a valid veterinary client patient relationship (VCPR). Veterinarians should use professional judgement and discretion when making diagnostic and therapeutic decisions using telemedicine.